DESCRIPTION
Made of durable stainless steel, our brand new digital ultrasonic cleaner works well for a wide range of products including jewelry, glasses, timepieces, toothbrushes, dental tools and much more. With the help of four sets of powerful transducers built-in, this machine delivers a superior cleaning effect to remove the debris and dirt from the surface of items completely. The digital panel allows you to adjust and control the temperature and working time.
FEATURES
Stainless steel construction
4 sets of built-in transducers
Stainless steel cleaning basket for holding small objects
Stainless steel lid to prevent water from evaporating
Digital timer and temperature display for delicate operations
Drains with flow control valve for easy cleaning and rinsing
Uses only water for general cleaning (add 5-10ml detergent for a deeper clean)
Effortlessly clean objects without touching the cleaning fluid, especially for small particles
Professional Use:
Medical and Dental Clinics, Tattoo Shops, Scientific Labs and Golf Clubs.
Jewelers, Opticians, Watchmakers, Antiques Dealers and Electronics Workshops, etc.
Domestic Use:
Jewelry: Earrings, Necklaces, Rings, Bracelets and Diamonds.
Glasses and Timepieces: Glasses, Sunglasses, Optical Lenses, Contact Lens Accessories, Watch Chains and Waterproof Watches.
Tools of the Trade: Tattoo Guns and Tubes, Electric Shaving Heads, Razor Blades, Combs and Toothbrushes.
Stationery: Printer-heads, Inkjet Cartridges and Seals.
Metal Articles: Antique Coins, Badges, Valves, Machine Nozzles, Electronics Components and Mechanical Parts.
Metal Dishware: Forks, Knives, Spoons and Other Small Silverware etc.
SPECIFICATIONS
Total Working Power: 490 W/td> Cleaner Power: 240 W/td> Power Supply: AC110V-120V 60Hz/td> Heater: 250W (Digital Control)/td> Frequency: 40,000 Hz/td> Tank Materials: Stainless Steel SUS304/td> Tank Capacity: 10 liter (2 1/2gallon)/td> Cycles: 1- 30 min. (LED Digital Display)/td> Temperature Setting: 0-80 degrees Celsius (32-176 degrees Fahrenheit)/td> Transducer Quantity: 4 set/td> Tank Size: 11"L x 9 1/2"W x 6"H/td> Product Size: 14"L x 10 1/2" W x 10 1/2"H/td>
PACKAGE LIST
1x Digital Ultrasonic Cleaner
1x Cleaning Basket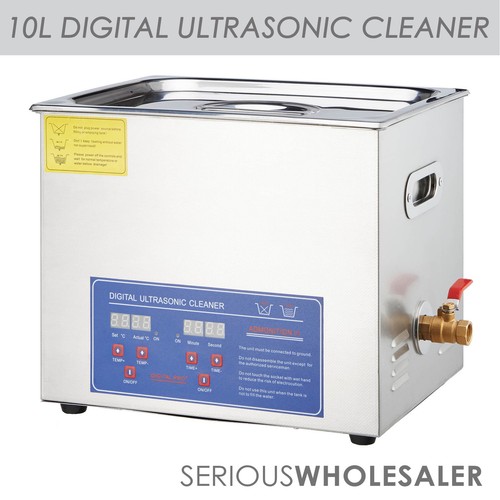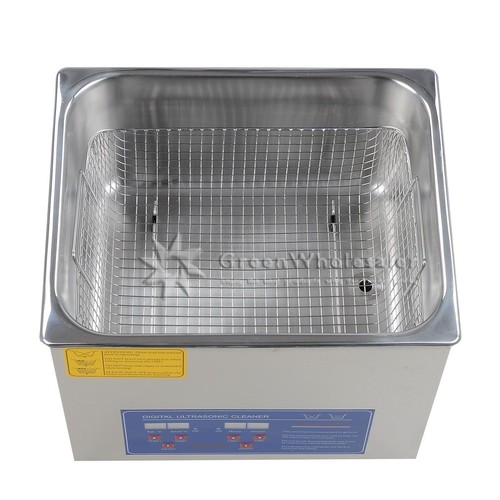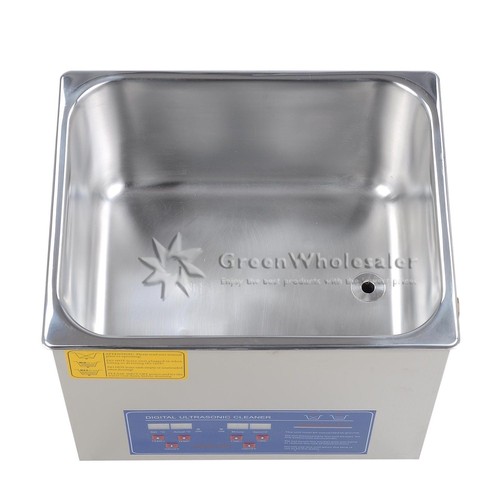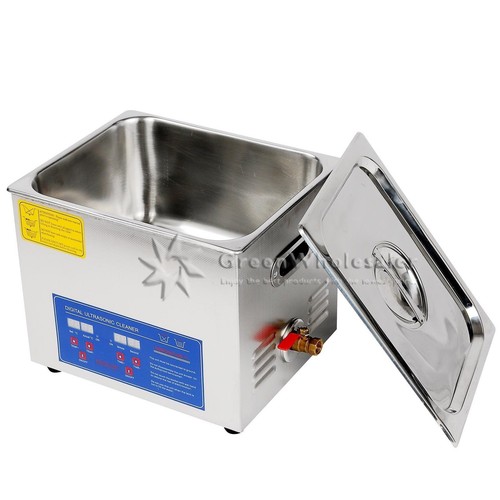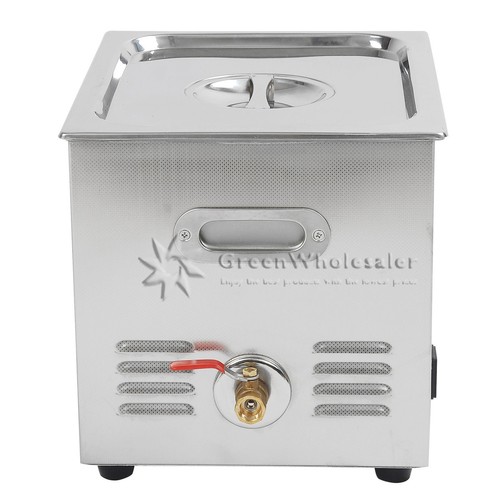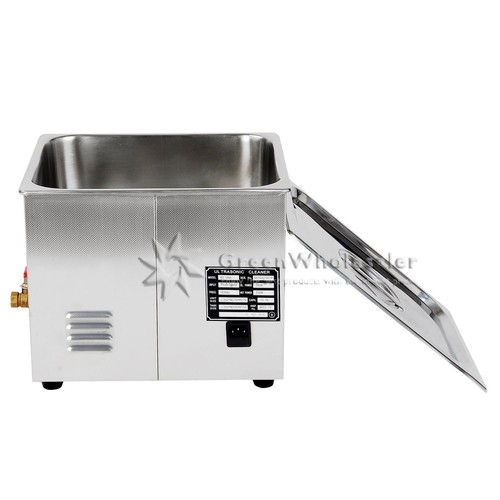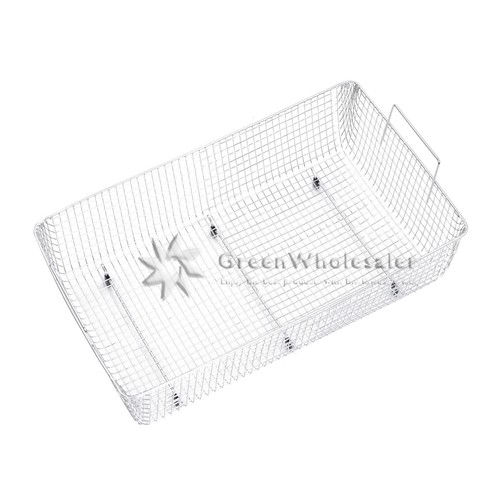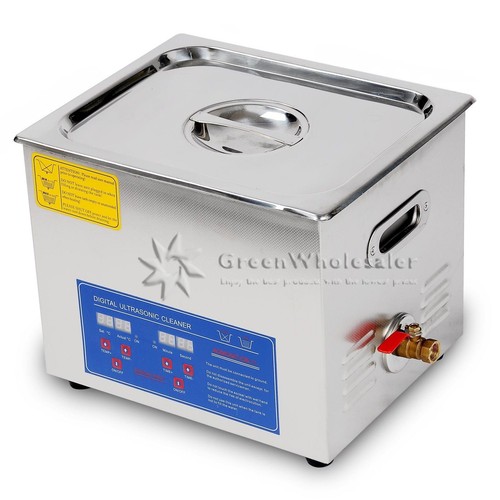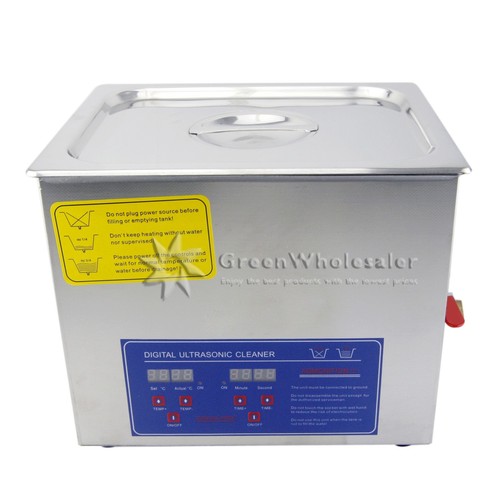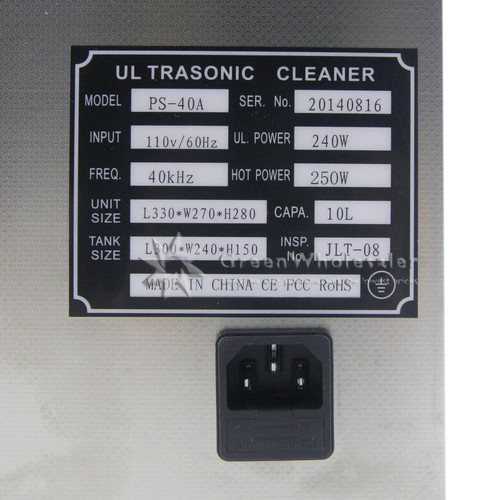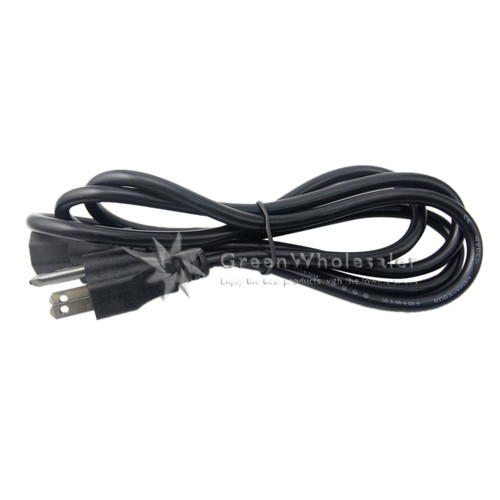 Shipping
Orders made before 2:00 PM EST (11:00 AM PST) will be shipped the same day. Most orders will be shipped within 24 hrs during weekdays via FedEx, USPS or UPS. We do not ship on weekends or various national holidays.
Important:
Please make sure your shipping address is correct before we sending your package out shortly. if you want to modify your shipping address after the package is sent out, reshipping cost plus a fee of $12.5 will apply.
We only ship to the lower 48 states.
Orders will only ship to PayPal confirmed addresses
Orders made after 2:00 PM EST (11:00 AM PST) on Friday will be shipped the next business day.
If you want to ship to Alaska or Hawaii, please contact us. The shipping fee can be calculated upon request.
Note:
As a professional eBay seller, we have two warehouses located in Anaheim, CA and Memphis, TN. In general, we ship out products based on distances UNLESS the closer warehouse is out of stock for the specific products that customers have ordered. Your kind consideration would be highly appreciated.
Payment
We accept payments only via PayPal.

Note:
Sales tax will be added for Californian(8%) and Tennessean(9.25%) buyers.
Payment made after 2:00 PM EST (11:00 AM PST) on Friday, during weekends or holidays will be handled the next business day.
Return and Warranty
Our 30-day Satisfaction Guarantee assures our customers that they will receive all orders promptly and exactly as described. In addition, it allows customers to return new and unused products in their original factory condition for any reason within 30 days from the date of purchase.
Please note that all returns must be pre-approved by seller and have a return merchandise authorization (RMA) number. Unauthorized returns will not be accepted. Buyers are responsible for appropriate packing, returning shipping cost, insurance and returning the item in "new" condition. Returns will be charged 15% restocking fee, if the product does not have quality problems. Used items will not be accepted for return.
For most of our products we offer 6-month warranty, unless stated otherwise. Items that have been misused, abused, damaged or beyond warranty period will not be refunded or exchanged.
Contact Us
Please use the eBay "Ask a Question" link at the bottom of this page to contact us.